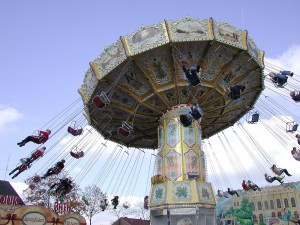 I need only look back upon the thirty-one years of my life at InterFace AG to see: many things have changed over the years! On all levels and in all dimensions. Looking at society and technology, or the way knowledge is treated today, what I see is more than a little surprising.
Totally new disciplines became important and made huge progress – and, as I see it, they also changed the world. Along with technology, I am also talking sciences such as psychology, neurology, behavioural science, along with game theory and good old philosophy. Not to mention how values and morals, even the concept of life for the individual person as well as in society and collectively, underwent change.
These developments exacerbated each other, thereby increasing speed in a way that I would no longer call linear. In fact, I considered and consider it more like "geometrical or exponential".
This is why the following model I discovered a short time ago is one I am in favour of. It is about the words knowledgeable and ignorant, as well as competent and incompetent.
You could assign these four characteristics to a matrix with four quadrants. The top line of the matrix is "incompetence", the lower line is "competence". The right column is "knowledge" and the left column is "ignorance".

The upper left quadrant would then mean "knowledgeable yet incompetent".
If you take the real-life example of an adolescent who knows that he cannot drive a car, you get the result that he is "knowledgeable yet incompetent".
The lower right quadrant means "knowledgeable and competent".
In our example, the adolescent grows to become a young man and learns to drive a car. Now he knows he can drive a car. And he will drive a car. Consequently, he is "knowledgeable and competent".
The lower left quadrant represents "ignorant yet competent".
As the young man grows older, he drives his car a lot. Consequently, he will become very good at driving a car, yet he is no longer actively aware of said competence. Whenever he drives a car, he is "ignorant yet competent".
The upper left quadrant represents "ignorant and incompetent".
We already can imagine what the story will be in the upper left hand corner. The man has turned ancient. He certainly should no longer sit behind a wheel, because he is no longer fit to drive. Yet he is not aware of this. Consequently, he will continue to drive with "ignorance and incompetence".
Well, isn't that a nice example? Yet there is one disadvantage. It suggests that man is the one who, due to age-inflicted change, mutates from "knowledgeable yet incompetent" via "knowledgeable and competent" and "ignorant yet competent" to "ignorant and incompetent".
More often than not, however, it is the world or the environment which quickly changes. Whenever you enter a new social system, you will immediately notice that you have to work towards "being able to participate". You learn the new system and then you become part of it. Except that, even after a phase of being "ignorant yet competent", you might quickly become "ignorant and incompetent'.
Because the rules and the actual functionality of the system changed so fast and so dramatically that you never even noticed it. That is when you will look stupid and no longer understand the world – in which just a short while ago you felt ever so much at home.
Well, once in a while I, too, feel I am getting caught in a chain carousel that rotates faster and faster all the time, making me feel quite dizzy.
RMD
(Translated by EG)
P.S.

The picture is called "Wellenflug auf dem Roonkarker Mart". I found it in Wikipedia with the carousel article. It is originally be Wilfried Wittkowsky.