Digital Transformation and New Mobility – Paradise or Hell?
Or:
Our Brave New World seen with the eyes of the entrepreneur, IT pioneer, blogger, father and biker Roland Dürre.
When he still worked at the GLS bank, Carsten Schmitz often invited me to attend nice events. I met urgewald and Katrin Frische when she was "telling stories", and many more people of interest. Now a board member of the HOHENFRIED e.V., Carsten is responsible, among other things, for networking, fundraising and financing.
One of the things he initiated is a loose series of presentations in Berchtesgaden:
"Civil Society Initiative with Current Topics at the Lederstubn"
And he asked me if I would be interested in supporting his project by giving a presentation. Which, of course, I will gladly do. After all, this is an excellent opportunity to thank him for all his hospitality and at the same time do something beneficial for a good cause.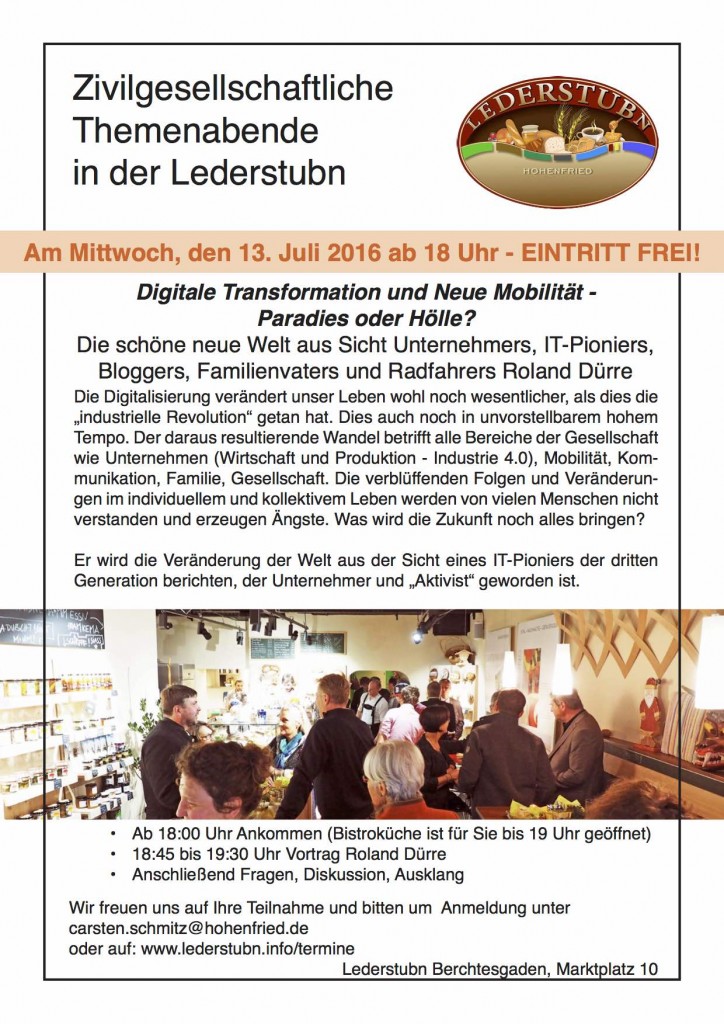 Since I assume that the audience will be quite diverse, the first thing I plan to do is ask them about their interests and then sort the input. And then the resulting list will be discussed in good order, a little like an OpenSpeech.
Consequently, I expect it to become a really open and interactive event that will be great fun for all participants – and that will also make people thoughtful.
I will go there by train and use the Bayern-Ticket.
Currently, I plan to take the S-Bahn train S7 from Neubibert on July, 13th at 14.31 hours and then change at Ostbhanhof and in Freilassing, arriving in Berchtesgaden at 17:30 hours. I plan to return on the same day, starting from Berchtesgaden at 20:31 hours, which means I will be back in my bed around midnight.
Of course, I would be delighted to welcome friends among the audience. I will gladly take you if you wish to use part of my Bayern-Ticket.
RMD
(Translated by EG)