Carl and Gerlinde (XL)
Recently, when, as day was dawning, a ruling by the Düsseldorf Court flew into his house by way of the "Frankfurter Allgemeine", Carl felt so much joy he would have liked to not only run down the street calling out to everybody, but also embrace every individual toilet bowl in every house in the neighbourhood!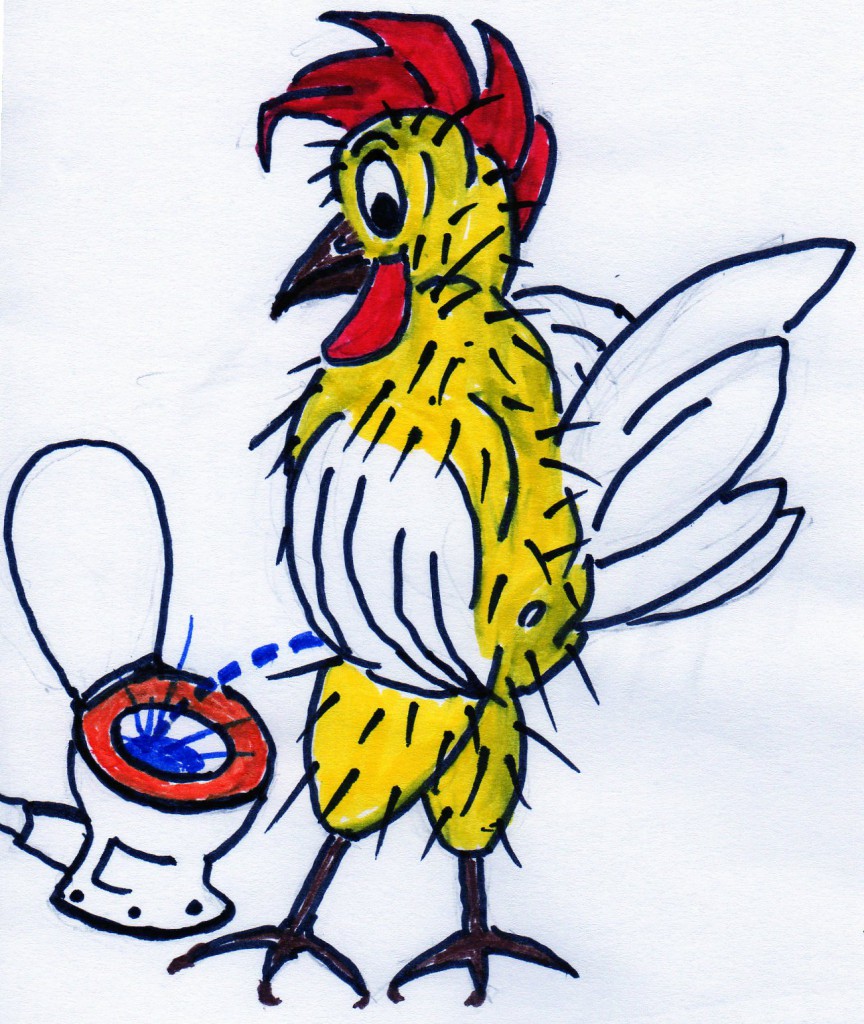 Because, at long last, justice had been done to him as a man by the German Legal System! It was the kind of justice he – and countless others of his species – had stopped believing in after all the ostracising and degradation they had been suffering from in this country which since ancient times had now been ruled and guided into a doubtful future by a too powerful, joyless woman …
And then – this unexpected gift of the heavens early in the morning, which left Gerlinde totally unmoved: she remained absolutely relaxed in her bed whispering something or other while all augury stood in favour of a final emancipation of men!
Of course, Carl asked himself how this was suddenly possible! What had happened? Was there something like justice in this country, after all? Perhaps a balancing power saw to it that, according to the law of entropy minimization, all injustice was minimized?
If so, then the nondescript message of the "Frankfurter Allgemeine" on this Friday morning might well have been a first sign! A sign indicating that there was actually hope for a better future, both for the human species and the subspecies "man" – while Gerlinde kept snoring.…
For Carl, however, said future crashed into his like a gunshot; after all, it was the official statement by the Düsseldorf judge Stefan Hank,
"….that nobody can forbid a man to pee standing up!"
It had the immediate effect that Carl suddenly not only defined himself anew as a human being, but in particular as a man! Meaning as a man who, at long last, was permitted to shed his water at home standing up! And that nobody could forbid it! Neither a mother, nor a wife, nor a significant other, nor the cleaning lady…
Naturally, this meant without the slightest doubt or room for interpretation that the still sleeping Gerlinde, too, had to take notice of the fact that he – Carl – just like all male creatures of this world – was entitled to pee standing up before the bathroom toilet!
As is often the case with great events, this totally new legal situation early in the 21st century, the clarification of which Gerlinde slept through without having the slightest idea, came in a totally inconspicuous way in the form of two simple sentences written by judge Hank. Those sentences were:
"Regardless of the increasing domestication of the man in this regard (that is: the man-woman relation), man who pee standing up are still quite a common occurance. Those who still practice this formerly frequent habit will still have to expect frequent arguments with – particularly female – flatmates, yet they need not fear that the marble floor in their bathroom or guest toilet will be vitriolised". (see: legal document number: 42 c 10583/14)
Well, so it was perfectly clear! – If a marble floor did not get vitriolised, then the same was true for ceramic tiles on the floor. And if those were not vitriolised, then neither was the toilet bowl. This was a totally simple inductive conclusion even Gerlinde, should she ever wake from her sleep, would have to see – although, being a woman, access to logic thinking was not always a foregone conclusion with her.
Which stood in total contrast to Carl, who actually would not tolerate any attempt at domestication as mentioned by the judge. After all, you can never domesticate a man, can you? Let alone if you are a woman!
Well, this was certainly absolutely out of the question!
On the contrary; now when, at long last, he had it black on white in a court-ordered document that he was permitted to be totally man both in the bathroom and the toilet, he was absolutely determined to practice and relish this act of emancipation at all costs. And he was definitely not going to let himself be restricted by domestication or anything else.
Let his slumbering Gerlinde stand upside down (which was something she did when practicing yoga, anyway): he, Carl, was not willing to forego his right – to be totally man!
And he was going to really rub the new peeing situation in for his perky Gerlinde! He already knew it was not going to happen without intense words being thrown back and forth! It was as plain as a pikestaff, but it was worth the effort, Carl told himself. And he was rather proud of the serene and objective way he saw everything even before his first cup of coffee this morning.…
Well – and since Gerlinde was probably going to wake up soon, it might be a smart and prudent idea to make sure that the discussion was going to run without a glitch by not overwhelming her with the court-ordered facts before her breakfast egg. Instead, he was going to wait a little while and then, depending on how things were going to develop in general today, with a glass of champagne and the newspaper in his hand, present the new court-ordered ' peeing situation' …
Yes, that was definitely a better way to go about it! Even the much better way!
And on second thought – so Carl thought – basically there was the question why to confront Gerlinde with this issue at all? After all, she did not stand guard next to him when he was doing his business in the bathroom, did she? So why make much ado about it and talk endlessly?
"Hey – where do we live?", he said to himself aloud before putting the "Frankfurter Allgemeine" away and quickly again slipping back under the warm bedcover after this spontaneous intuition.…
After all, when using the toilet, he could do what he liked to do: if he decided to pee standing up, then he was going to stand up. And if he decided to sit down as he had always done in the past, then this was also just as well. On top of him then also obeying Gerlinde's strict rules!
The important thing was only that he did not chicken out but took a clear position! And that is exactly what he was doing now in light of all this newly won freedom that gave him all the options: he could approach the toilet bowl standing up or sitting down!
Now, wasn't that a great masculine feeling: not to be in the situation of the Federal Chancellor who always had "no alternatives"…
KH