Carl and Gerlinde (XXVI)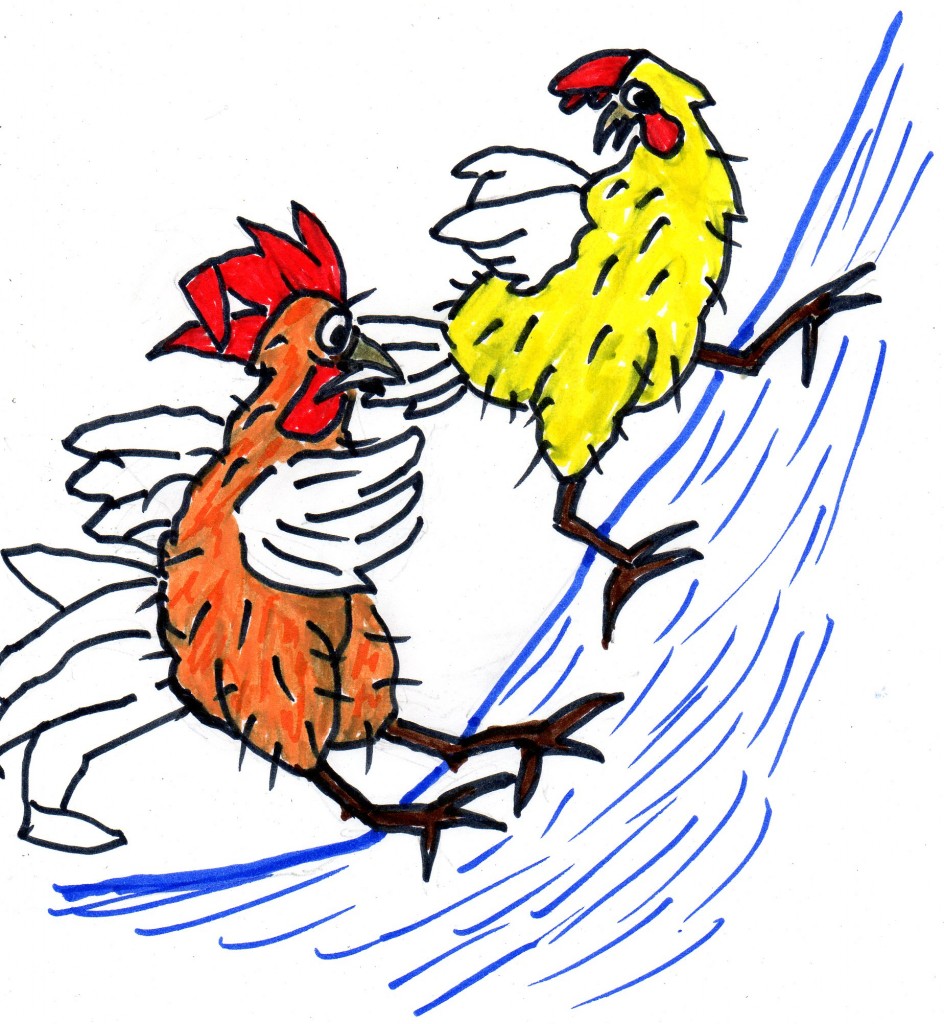 Well – where else? Naturally, the only direction it could carry him is 'aloft'. After all, the joy he now again found with the 'eternal feminine' moving actively night in night out next to him as it used to. Not to mention how it saw to his household day in day out in the daytime in the most expert fashion, on top of treating him, this 'untamable masculine', to the most tricky delicacies when he returned from the firm of an evening – exhausted but never ever again in a bad mood – to relish hiding in the well-prepared 'little nest' …
And this wonderful mood of his he now carried right into the firm each morning –  to the true delight of all his co-workers and in particular his secretary Bettina – also proved to be surprisingly stable throughout the entire day.
Even when dear 'Bernie', alias Dr. Osterkorn, seemed to use his nerves for some kind of daily exercise like a super-motivated rope-pulling athlete, his good mood remained. As it did when Miriam Braun, the new 'underwear sales representative' in her very pregnant condition now perceived the world exclusively over her mother-to-be womb and apparently preserved all her creativity for the twins she expected!
In fact – his robust good mood could not be destroyed in the evening, let alone at night, when he was permitted to indulge in Gerlinde's homey warmth. That was the time when he would inhale her fragrance and again and again delight in her delicious, uncovered body with its endlessly long legs that permanently found their tentacle-like way to his side of the bed in the semi-darkness of the bedroom. The same was true for her satiny arms: each morning, he wound his way out of them with the utmost care, because he had and wanted to prepare breakfast while Gerlinde still continued enjoying her dream world among those smacking sounds he had – totally inappropriately – in former times called snoring.
And for Carl, it was also quite obvious that, now that Gerlinde had made the re-appearance he had totally given up on believing in, he would not start fretting about the months that lay behind in a small-minded way. He was definitely not going to annoy her with petty reprimands.
No, that was the last thing he would do! What right did he have to do anything of the sort, anyway? After all, they were not even married, nor did they plan to get married in the near future; both of them had already made a disastrous experience with this oh-so-blissful marital status.
To be sure, he would certainly have liked to know what she had been up to on Tenerife – as he had been informed, that was where she had been! And he was wondering whom she had met on Tenerife?  And why had her 'Ex-Hubby' all of a sudden so lavishly let her stay in his Porto Santiago apartment? And how often had he, perhaps, visited her there? And how, on the whole, it had been with all those gentlemen in this allegedly so dream-like Porto Santiago?
But no, he was not going to ask! This was her affair and hers alone! He would rather bite his tongue off – which, incidentally, would also have looked stupid and would have made neither him nor Gerlinde any happier.…
When all was said and done, the only thing that mattered was the fact that Gerlinde was back with him and apparently also enjoyed it; everything else was basically irrelevant! At least for the time being!
Oh my God, what a blessing it was to live with 'cleanliness revisited'! Everything sparkled, radiated and smelled like heaven… it was simply beyond words! And if this fundamental joy he felt when everything was nice and clean was really bourgeois, then he certainly relished being the greatest bourgeois on this planet and in this entire solar system!
To be sure, he was himself quite surprised at the new joy he experienced when being permitted to pamper Gerlinde. For instance with his extremely appreciated, delicious breakfast varieties: on top of delicious coffee and fresh rolls, there were the most exotic jams and cheese from the most exquisite delicatessen shops. On Sundays, he even added Norwegian salmon and champagne! Now if that was not something special! And he really enjoyed seeing how Gerlinde beamed at him and relished all those delicacies he was offering her. Yes, that was really something that made his day!
And it went without saying that he no longer quietly hid behind those huge pages of a popular daily every morning. Instead, he enthusiastically related numerous big and small curious incidents that happened in the firm, or else he would tell about things he had read. He also often talked about his new position. Times were frequent when he also asked her opinion about some underwear collection or other. This went especially for the latest one, for gentlemen; and how she felt about Frau Braun's pregnancy problems and if she was going to finally come and visit him at the firm and meet Bettina, his secretary?
And unless he was totally wrong, his small 'sneering blackbird' was even at times a little proud of her Carl and of what he had achieved while she had been gallivanting on the Canary Islands and barely making ends meet – hopefully not with too many alien body contacts?
When, on one of the subsequent Fridays, Gerlinide even went so far as to ask him to accompany her and Hannelore to a private view in B. at 5 p.m. – it was about 'monitoring the female by the female' and the exhibited works were exclusively by women – Carl literally melted and looked truly happy; of course, he promised to call it a day at the office a little early, even though he already feared he might, again, be the only representative of the male sex among all those art enthusiasts. After all, the same always happened when, for the sake of Gerlinde, he now also went to see one of those typical 'women films'.
On the fringes, too, this vernissage was exclusively female: a young singer contributed to a great atmosphere and a famous author presented a very adequate reading of one of her own short stories written around a painting. Of course, the artists were also introduced by a female member of the city council; the only man who was allowed to say a couple of welcoming words was the mayor himself. But he certainly vanished into thin air faster than you could say "good-bye", which left Carl S. the only male creature worth mentioning in the room who thus was subjected to the entire broadside of fantastic female art on this afternoon. You could easily ignore the two unimpressive, diminutive so-called men who drowsily sat there without much interest …
But at least there was, as Gerlinde stated, cool beer! Also, there were mountains of delicacies! Incidentally, this was no more than a minor negligibility for Carl. After all, he wanted to totally focus on the quite substantial number of paintings by all those female artists. …
And still, by the end of this very successful private view that had enjoyed acclaim from all parties present, there was some domestic strive at home between Carl and Gerlinde after they had – in a rather befuddled state – been given a lift home by Hannelore.
Mind you, Carl had really intended it as a compliment when, seeing the group of artists assembled around Gerlinde and Hannelore who had both bought pictures, he had remarked in a far too loud voice that he was truly surprised to see how well women could paint these days. There was no way he could have made out any difference in quality to what men painted! With admiration, he said more than once that this was truly phenomenal.  He had given his voice a pronounced and strong sound between several more glasses of champagne – and then was totally perplexed when, all of a sudden, he saw himself deserted by everyone except two silent, not totally alien ladies who wore a stony countenance… Well, that was definitely the time for him to notice that, apparently, something had gone wrong!
KH
(Translated by EG)