Carl and Gerlinde (Instalment #54)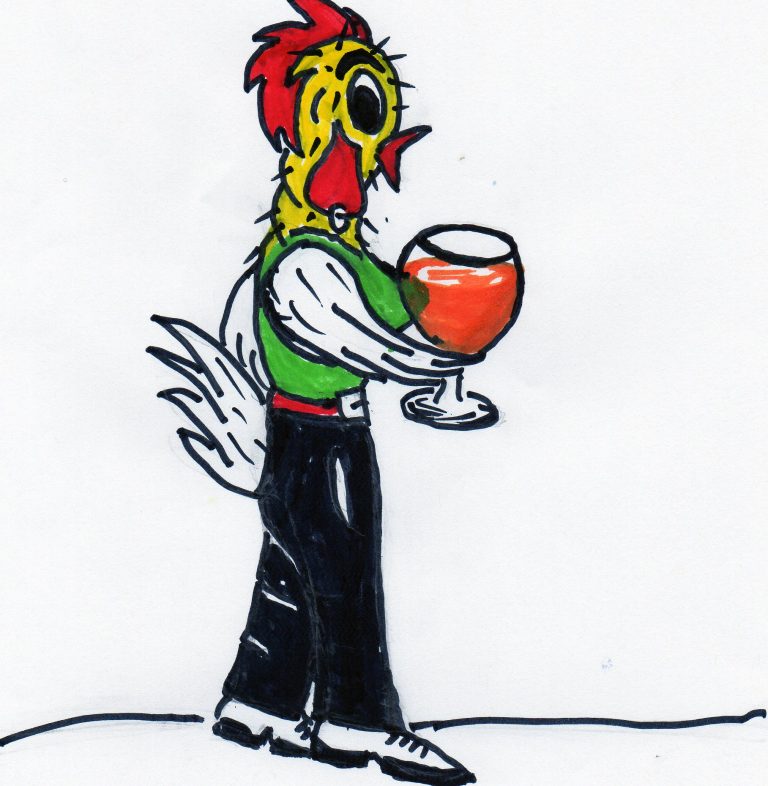 "Waiter – please bring a double cognac as fast as possible …!",  Carl cried out excitedly while he was literally gulping air …
"Under way", groaned the waiter while hurrying along his table. Thick drops of perspiration were building on his broad forehead.
"Whatever is the matter with you, Carl? Is it really necessary that you start filling up on cognac this early in the morning, when morning has hardly broken?", Gerlinde irritably asked while taking a small sip of her freshly pressed orange juice with a worried expression on her face.
"Fear thee not, Gerlinde, I only need something really stiff to digest the news I am just reading in the paper here!"
"So – what sort of news is it?" Gerlinde asked with raised eyebrows.

"Just imagine, the king of Saudi-Arabia and his very ambitions sun Mohamed bin Salam actually now, in the 21st century, want to allow women to drive cars!"
"How come?"
"Well – starting on June 2018 – women in Saudi-Arabia will be permitted behind the wheel of a car even without the consent of their husbands. Isn't that absolutely maniac?".
"Great! But as I know these brothers, there will certainly be some foul exhortation idea behind the deal… "
"Perhaps – but before you judge them too quickly, my dear, maybe we should remember that in Germany, too, the husband had the exclusive right to say what his wife and children should do until 1958."
"Hm – great! But at least the women did not have to wear veils, did they"?
"No, they did not have to do that – but even if men allowed their wives to work, they were the ones who decided what happened with the incomes!"
"Super – that is what pimps still do for their sidewalk birds, isn't it? ".
"Correct. The world is still as it should be in this patriarchal milieu!"
"It seems to me that you really need more cognac, Carl! If you are under the influence of alcohol, you definitely do not talk quite as much nonsense …"
"Yes, but only because I mostly go to sleep immediately! But where is this incompetent waiter now with my medicine?"
"Perhaps the waitress is quicker", said Gerlinde. She jumped up and set a not-bad-looking young waitress onto the path of the dreamy waiter.
"And besides, if their husbands had not consented", Carl, who obviously now knew no peace, continued, "women were not allowed to open their own bank accounts until 1962. How does that strike you?"
"There you see, my dear Carl, that is exactly why I absolutely do not wish to marry. I certainly would not want that to happen to me!"
"However, my dearest Gerlinde, this precaution is not necessary, because ever since 1969, every married woman in Germany is fully contractually capable."
"Wow – that means everything really went at breath-taking speed with respect to the emancipation of the females – I am sure the CSU was the absolute pacemaker …"
"You mocker", Carl smirked. He was still waiting for his cognac and getting more and more impatient …
"You are really poorly off with your cognac, Carl! In the meantime, would you like to take a sip of my orange juice? …"
"Excuse me! Has the day come when we men can no longer even drink our own cognac ?…"
"Carl, I will soon break out in tears"!
"Yes, please do – because otherwise I will have to do it", Carl moaned.
"But there is truly no reason for you to do that, my dear Carl – with the exception that your cognac does not arrive, you men have no reason at all to lament, do you?"
"Oh – oh – and what about the 'Female Federal Chancellor Forever'; she is not only Honecker's Late Revenge but also the Revenge of all Women Against Men for suffered wrongs!"
"As always, you are exaggerating, Carl!"
"I am not exaggerating at all, because the 'Female Federal Chancellor Forever' would even be elected by all the women and elderly persons if she were 'a mounted specimen'  …"
"You know, instead of talking such nonsense, you probably had better get your own house in order "!
"Why is that..?"
"Why don't you look at all the 'male specimens' – for example the wonderful Herrn Schulz – or the kissing Herrn Junker – or the divine Mr. Trump – along with the grinning Kim Jong Un – or the eternal Bavarian drooling Herrn Seehofer… or – or – or … compared to those honourable gentlemen, even a 'preserved specimen of the Female Chancellor' looks like an improvement to me …"
"Well, unfortunately, and as an exception to the rule – and very reluctantly – I have to agree with you, dear Gerlinde: the guild of men currently active is really a unique example for the word pitiful!"
"There you see, Carl …"! – when Gerlinde said this she had enough tact to suppress all display of triumph!
"But still, God has mercy on us men, Gerlinde: because at long last, my very dearly craved cognac is arriving!"
In fact, the friendly waitress suddenly came scuffling from nowhere and placed a huge brandy balloon – into which Carl might actually have jumped directly – in front of him under a thousand apologies and manoeuvres for the endless waiting time. And before Gerlinde could look around properly, his head actually already hung in the balloon up to his neck…
This was the only possible explanation for the fact that Carl, immediately after the cute waitress had vanished as picturesquely as a gazelle, could come up with the dry statement that, regardless of all currently felt superiority of the females, nobody could seriously doubt that even this lovely waitress was still moving on a pair of 'waiting upper legs'  …so why would we need a superiority complex? When all was said and done, women were, like in all times, basically just 'a piece cut out of man', weren't they?
KH
(Translated by EG)