The tension grew on and on – and it was already a bit like waiting for "Father Christmas".
After a little more than two months, the very enthusiastic students of UnternehmerTUM came to present what they discovered about InterFace.
And I think all InterFace employees who witnessed it were thrilled!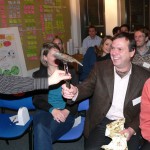 The students showed that they had very well understood the colourful diversity you find at InterFace, but they also understood how the consequence of said diversity is a challenge. Their presentation was a one-hour show that would even have done justice to the theatre.
It is absolutely justifiable to say that some of the "alternative concepts" hammered it home (see picture).
All employees of InterFace can find the midterm presentation  here. Contact me for the password to access both the presentation and additional material.
We look forward to the second half of the project next year, where solutions will be processed and implemented.
CS
(Translated by EG)