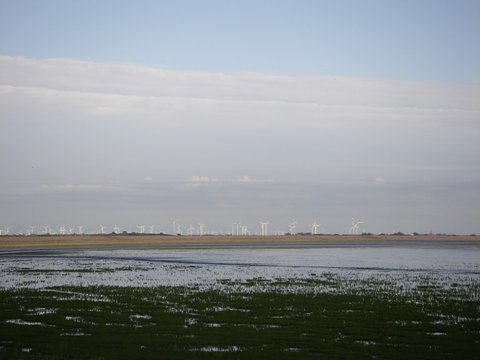 In 1992, when I first stood in front of the four Spannbüllhof windmills, I never stopped being amazed. It was a windy summer, the daughter had come down with whooping cough and I experienced the coast with its healing and windy powers.
Being a physicist, I automatically analyzed the function and energy output of the mills and my surprise knew no end when I realized what a business potential these four windmills, each producing 0.5 Megawatt, had. In a single year, they earned 60% of what they had cost.
If you want to do the calculations, here are the facts:    
Per installed megawatt, the energy output is around 2 to 2.5 gigahertz each year. (This is an important number for many Bavarian investors who currently want to make places with little wind happy through their investment capital. Keep in mind: there will be a time when you no longer get subsidies and then the cost will count. With grumpy greetings from the depleted objects in Eastern Germany to the nationally enthusiastic investor).
On the second day, my question, of course, was about the network and the energy storage – and even in 1992, two things were obvious:
The conversion technology was not able to cope with the sudden "going-off-the-wind" of the windmill chains if there was too much wind;
In Schleswig-Holstein, there is no water storage for taking up extra energy;
And neither the windmill farmers nor any of the subsidy politicians could have cared less, because with subsidies, you never know why you get them, anyway.
Now, what a shock, in 2012, the energy is to be used – neither the subsidy granters nor the windmill park investors ever believed such a thing might happen!
After all, life was a lot easier when you got the premium even if the windmills were turned off because of too much energy flowing through the networks if there was too much wind.
Yes, it is true: they got a premium for switching off if the network got strained. We really learned a lot from the GDR. Today (Feb., 27th, 2012) our parliament rescues the "Euro" and tomorrow "the entire world". At the same time, the production of carbon fibre composite for the BMW e-Mini is transferred to Lake Moses, USA, because the energy costs too much in this country.
Is there a way out of the dilemma.
Yes, there is!
It will be a plea for "power to gas"
wl
(Translated by EG)