The Dough is What Counts!
or
We all deserve more than we earn.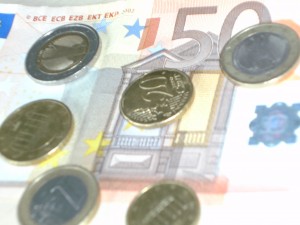 Many employees think they should be earning more than they do. At the same time, their bosses believe the employee's wages are too high already. Both can easily be justified. There is no truth when it comes to income and wages.
Fair income is not possible. Performance fairness remains utopian.
Why does a hard-working cleaning lady earn less than a glamorous manager?
The criterion of value improvement achieved by a person, too, is not easily applicable. The spotless toilet is definitely the direct result of the cleaning lady's work.
The director as figurehead!
It is a little harder when it comes to the managing director. What exactly is due to the highest manager if the enterprise can show an excellent balance? To what extent does he benefit from the prevailing position of the company and the current market situation?
During his years in office, how can a director actually influence an enterprise? When do changes start to have an effect? Maybe he is just the face and representative of the company? Does this justify the exorbitant salary, given that the success has many fathers, including chance?
Director and cleaning lady are the examples at the opposing ends of the scale.
For "normal workers", it is also everything but easy to find a "fair price". And it must be said that agreeing on a suitable wage is an important requirement for people to feel comfortable with their job.
The personnel departments in big companies try to evaluate achievement fairly. They use the most sophisticated and delicate methods for measuring and evaluating achievement. Artfully designed goal agreements and manuals for goal achievement discussions are generated. More often than not, the superior employees have to do some prudent moderating; otherwise the whole structure might collapse when put to the practice test.
A prudent wage policy should also contain the factor of justice in terms of need. – Which poses new questions immediately.
Many people work only for the money.
There are people who "sale" the product of their hands and brains. The income is a compensation for lost time and autonomy. It becomes smart money for suffered heteronymous control.
Monday to Friday, they slave away, weekends they live.
Money gets to be the extrinsic motivation. This is contrary to an enlightened concept of humanity. We spend a lot of time in our lives at work. That is why it is important for our work to make sense for us and have a fun aspect, as well. And that we can also build up our strength to a significant extent from intrinsic motivation!
RMD
P.S
.
That is why we, at InterFace, also like employing people who are not altogether "streamlined".
(Translated by EG)