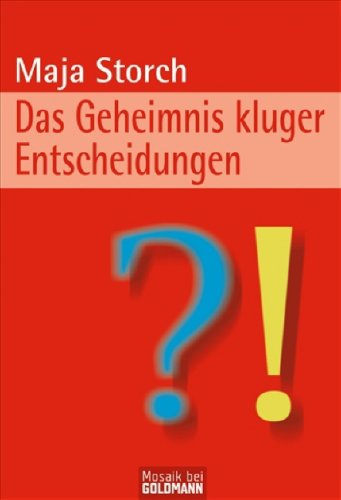 This small book is only one of many on "decisions". It helped me to understand myself a little better. After all, I was frequently a huge riddle to myself. And I often did not understand why I felt so uncomfortable with "rational" decisions.
Many strategic meetings where seemingly rational varieties of scenarios were presented, analysed and then again discarded were something I hated. I often suffered during these meetings, because they seemed totally useless to me.
With all these deliberations and doubts, I never knew if I was coming or going at the end of these long and strenuous meetings. I became unable to make decisions and felt paralyzed. Even though before the exercise, all had been rather clear, nothing was clear afterwards.
Occasionally in my life, I also thought I had to free myself from my "gut decisions" and follow "ratio". After all, a "good manager" makes himself independent from feelings and instead follows ratio! In all those cases, it turned out to have been a huge mistake.
Books like this one will not prevent us humans from falling victim to the ratio trap. But at least they explain why this is totally normal. And that my feeling bad was totally justified. It is not me who is crazy when I am struggling against ratio. Instead, it is all those "ratio-persons" who make life hard for themselves.
The special thing about this book is that Maja Storch feeds us this rather high-standard food in a very easily understandable way and with lots of humour. You can actually read this book like an entertaining who-done-it.
Thanks to reading this, I was again capable of coming to terms with my "strange" managerial style a little. And I am glad to know that my method was not all that bad. Instead, it is in accordance with how humans basically function. Now I know that the strict (self) criticism against my usual decision-making process of my rational super-ego was wrong. And consequently, I am now again a little more content.
Here is the Amazon "affiliate link".
RMD