In the spring of this year, electro mobility made its appearance in our household.
With a cargo bike for shopping and for the grandchildren.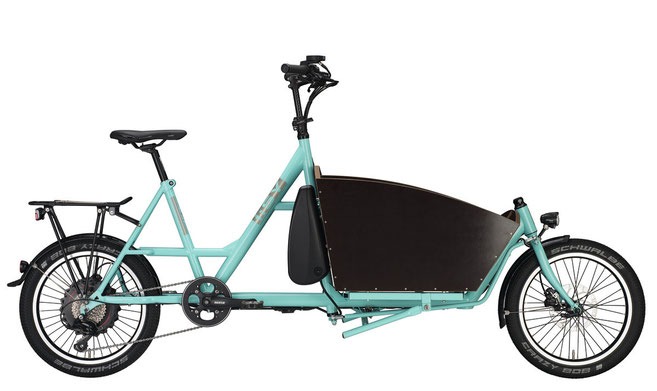 Our decision was finally made in favour of a CARGO-bike by i:SY. In Germany, the bike is produced by the well-established Hermann Hartje KG of Hoya/Weser".
Our cargo bike is the type "long john. The alternative would have been a "Christiania". It has two front tyres so that you would even be able to remain sitting when you are waiting at a red traffic light. The name is derived from "christiania bikes", which is used for all bikes of this type, even if other firms have produced it.
The cargo bikes of the "long john" type are available from various producers. Mostly, they have different dimensions, which means their cargo areas length varies (and consequently also the distance between the tyres). The producer of our model, too, is currently working on a version with increased dimensions. However, for our household with currently only three persons and the grandchildren, the shortest model is more than enough. If I need to carry particularly heavy or voluptuous cargo, I still have my trailer.
Our cargo bike is called "i:SY eCAR:GO". Our home retailer (Dully's BIKESTATION) in Ottobrunn recommended it most warmly. We chose it because it is a very flexible, almost sportsman-like cargo bike. Consequently, we mostly also manage getting through critically narrow passages quite easily.
I will not give you the measures and technical data – you can find them in the links. In our model, the cargo is at the front, just as you see it on the picture (the picture is also from the ISY website).
As an alternative for transports, you have a simple cargo plank. For us, this extra (a wooden box with a folding seat and children's safety belt) was particularly important, because on the (folding) children's seat, two kids can easily sit side by side.
This was also an important reason for us to choose the cargo bike. After all, as grandparents, we occasionally have to pick the children up from their day-care centres. And for them, it is certainly most enjoyable if they can sit up front, feel the wind blow through their hair and know that "grandpa" or "grandma" is sitting right behind them.
You can also get the bike without electronic support. Even then, the characteristics of the bike are excellent. Basically, it is simply heavier than a normal bike, but in the hill-less city of Munich, that is not really a problem. The non-electric model will be quite sufficient. But if you want to remain up front during a family outing with the other (younger) family members on their fast bikes, then the c-bike version is certainly helpful. For instance if you go east towards the Alps.
The motor of our eCAR:GO is a GoSwissDrive. It is a back drive, which, to me, seems optimal for a cargo bike. As we all know, the drive of an e-bike is something like a religion. Some favour the back drive, many use the mid-bike drive, and I am basically fascinated by all three of them. That is especially true for the front drive of my travelling bike, a London by Utopia.
But I will write about that later – just like I will also write a separate article about the differences in drives. After all, by now I have everything in my stable – the cargo bike with back drive, the Conway-Mountain-Bike with mid-bike drive and the touring bike with a fantastic front drive.
Naturally, I also did a lot of googling on the GoSwissDrive of our cargo bike. They sell it in very noble (and consequently expensive) bikes. If you talk about back drive, you are not really being precise. Basically, an e-bike is always a complete electronic system. The components are: sensors, cables, the control device, the accumulator, the drive motor and the loading device.
Unfortunately, (also due to EU regulations) no two electronic systems are identical. And I cannot load the battery of another system with the loading device of one system. As I see it, this is nonsense, because they could easily have defined standards and solved safety problems in another way. But then, this is another example for the EU regulation mania, where technological competence and the technologic development often play no role at all. It is more about the big manufacturers. Although they, too, will, eventually, have harmed themselves with their interest in proprietorial solutions.
One of the things that make the GoSwissDrive so attractive is the magnet charging plug that links the accumulator to the loading device and to the bike with the motor. We of the IT sector know this from our Apples, where I was also immediately fascinated by the magnetic charging plug. To be sure, this is only a small matter, but it is a very convenient thing.
What I like is the short battery loading time, the easy and well-structured control and display of the drive at the bike and, of course, especially the total noiselessness of the motor with its perfectly adapted support on the different levels. Along with and thanks to the Shimano Acera 9-Gangman gear, you never feel any unpleasantness of the drive, you have a great pedalling frequency – and all of a sudden you are much faster, especially uphill. Of course, you also get push support.
One of the advantages of the GoSwissDrive is that it recuperates. That means the drive can retrieve energy when you go downhill, and you can even set this process at different levels. To be sure, this will not bring a lot of energy, but after a long uphill drive, you will probably appreciate it if the accumulator fills up a little bit. After all, you will want a little power for the last hill before you arrive at your final destination.
For me, the important thing is that the recuperation works like a motor brake and you have to brake less. This saves both the brakes and your hands from harm. The front hub dynamo is also a great thing – it makes it possible to ride the bike at night and without accumulator.
Our cargo bike has only one accumulator. It is plugged in at the upper rear end of the transport box. It is very easy – and the same is true for the unplugging. Then the magnet plug is pulled in and that was it. On the opposite side of the rear end, there is also room for a second accumulator. But since we only use the bike in hill-less Munich, this is totally unnecessary. After all, the range – especially if you ride considerately – is easily more than 100 kilometres.
Matters are probably different if you live in a hilly area and use the bike professionally all day long. But if you use two accumulators, you will certainly not have a problem there, either. And if one accumulator is empty, you only move the magnet plug from the one bike to the other and the bike will roll again.
Barbara equipped our cargo bike with a hand-sewn cover she herself professionally designed to fit. So now we can transport everything in the rain and it remains dry. In practice, it has been shown that, especially when we go shopping (and when we transport children), the cargo bike has gained prime position in our household. It is nice to simply pack whatever you bought and then deliver everything directly to your front door. You will never again even think of using a car if you go shopping. That is far too complicated.
Yes, I find it is a pity that we did not have such a vehicle when we were parents. But to make up for it, the grandchildren are ever so happy with it!
RMD
(Translated by EG)